Who we are
Over three decades, many health-oriented individuals have organized cultural groups in order to promote vegetarianism in Iran.
The main purpose of these activities are to educate and enlighten individuals and our society to a deeper level of understanding and the importance of a healthy diet and lifestyle, that has a great impact on our overall health and environment.
" Iran Vegetarian Society " is a non profit organization which was established since year 2000 by the effort of Messrs. Hossein Gheisari Araghi, Bozorgmehr Golbidi, Gheisar Gheisari Araghi, Elaheh Farmani, and Rosa Ghanad Asadollahi.
The chairman of this organization is Mr. H. Ghesari Araghi.
Currently, this organization benefits from highly-educational programs such as book publishing, health and nutrition seminars, professional consultations, cooking classes, restaurant and supermarket setups. We also have health promoting vegan / vegetarian supermarkets and restaurants available to our society.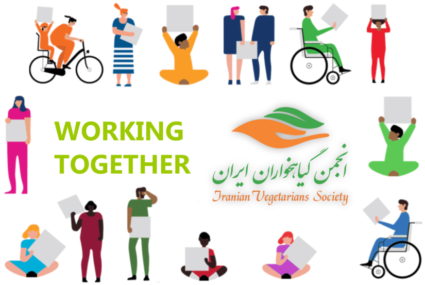 What we do
Vegan/Veterinarian food promoter

Health services

Health, Nutrition and Life style consulting

Educational and Spiritual Events and Seminars.

Cooking School & Classes

Business Opportunities

Serving a Healthier Life Style